JEN'S WREATHS
Responsible Business and Reasonable Prices!
At Frugal Fit Family, it is my mission to support brands and represent businesses who coincide with my mission. As you may have read, I am challenging myself and my family to be a bit more Eco-friendly and organic while saving money and being frugal along the way.
I was so excited to be contacted by one of my sponsors - Jens Wreaths because they are everything that I stand for - responsible practices and earth conscious...plus great on the budget! I spend a lot of time spreading the word about their amazing fundraising program BUT have yet to tell you about how they offer their gorgeous wreaths while having a POSITIVE effect on the environment...I felt it best to let JEN, herself, tell you!
Please take a minute to read more about how Jen's Wreaths practices RESPONSIBLE BUSINESS!
By: Jennifer McFadden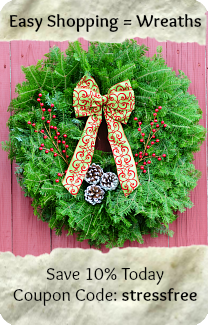 I want to thank Heather May for the opportunity to write on her blog. My name is Jennifer McFadden and my family owns Jen's Wreaths in northern Minnesota.
Jen's Wreaths
offers a wide variety of different size Christmas wreaths made from fresh balsam fir (pine). All the wreaths are handmade and shipped directly from our farm. Learn more about our family's start in the wreath making business here:
http://www.jenswreaths.com/about.cfm
I wanted to address a question we get asked many times each year. A lot of our customers want to make sure our balsam fir is sustainably harvested. They often ask, "Are trees cut down, etc. in order to get these limbs." In other words they want to make sure that we aren't depleting our natural resources. We believe we'll get asked these questions more and more often in the future as correctly using our forests comes to the forefront of many customers' minds.
Sam (my husband) and I want to work hard to build a viable business. We don't just want a business that provides a living for us but a business that can withstand the transfer to another generation. Profit is important but so is doing business correctly. In all aspects of our business we look not only short term but also long term. We want the next generation of McFadden's to have an ample, healthy supply of balsam fir trees and limbs. Without a supply of this material you simply won't have a business.
Last year we implemented sustainable harvest goals. We wanted 50% of our balsam fir to come directly from logging sites. Here in northern Minnesota logging sites are plentiful and most of the time the trunk of the tree is the only part used. The tree limbs are simply discarded off to the side. With careful planning we were able to go in directly behind logging crews and gather fresh healthy balsam fir limbs to use in our operation. These limbs would have simply gone to waste.
So, where does the other 50% of our limb tips come from? Well, they come from carefully giving balsam fir trees something similar to a quick haircut. When cut correctly the tips of balsam fir trees can be taken and they grow back more tips to be used again and again. We never cut a tree down and strip it of its limbs.
We are firm believers that our natural resources are a gift given to us to use and enjoy. However, we also believe in responsibility. Common sense and firm research studies on how to correctly harvest limb tips should be used to ensure that the next generation has a plentiful supply of one of the most fragrant fir species in the forest – Balsam Fir!
Take a moment to visit our website and BOOKMARK us for the upcoming holiday season.
http://www.jenswreaths.com/
We love the Christmas season and will be introducing some new designs later this summer. We offer FREE gift cards and A+ customer service. We can guide you through all the options available via phone or you can use our website for an easy transaction. We look forward to serving some of you Frugal Fit Family fans this winter and fulfilling your gift buying needs.
You can follow Jen's Wreaths on Twitter and Facebook to stay up to the minute on deals!
Click HERE To Follow on Facebook
Click HERE to Follow on Twitter