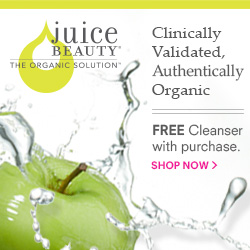 Click here to see more About Juice Beauty
Looking for Some Organic Beauty Items?
Your skin absorbs 64% of what is put on it so put on something good for it instead of chemicals!
Check out the Amazing Products from Juice Beauty! Not only are all of the products made from totally organic bases BUT they also toss free samples in with every order.
FREE SHIPPING ON ORDERS OVER $50!
They make organic skincare items, haircare, and makeup and even have some Fantastic Mother's Day Gift Sets!